Backup Solutions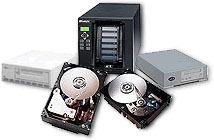 When you lose data, you lose one of the major assets of your business. Whether it is customer contact or financial information, accounting records, transactions, records or research, it represents hours, weeks, months or even years of work by your staff. The experts at BDH Technology are here to help, with three types of backup solutions for your business.
Why Backup Your Data?
With a backup system installed by professionals, you are protected from the negative, expensive impact of security breaches, hardware failures, end users and disasters like flooding or weather extremes. Backing up your data is the only way to protect your investment and keep your business up and running. It reduces or eliminates downtime and keeps your vital records safe.
Types of Protection
BDH Technology has the right backup solution for your business. We have the experience and training to design a storage solution that will keep your data safe. We specialize in:
Off-Site Remote Storage
This is the most popular solution because it is handled automatically. Each night the backup starts by itself, sending a perfect copy of your data over the internet to storage that is off-site. If errors occur, an email and report are generated to alert staff.
Your data is always encrypted, making it secure against prying eyes. No unauthorized personnel have access to your important information.
Restoring your data is as simple as calling BDH Technology. We will either replace the files on the server or place them on external media for quicker recovery of large files.
Full Server Local and Off-Site/Cloud Backup
BDH Technology offers full server off-site/cloud backup for maximum protection for your business. The backup creates a local copy of data, then encrypts and pushes that data off-site to a secure storage facility. In the secure environment the backup files are checked for errors, ensuring that the backed up data will always be available whenever it is needed. The secure environment also provides the capability to create an instance of the server in that environment, which gives instant recovery of data in the event of a major disaster such as fire, flood or tornado.
The service is billed at a flat monthly rate per server for under 1 terabyte (TB) of storage. Storage usage over 1TB is billed at an additional monthly cost.
File Based Off-Site/Cloud Backup
BDH Technology also offers file based off-site/cloud backups for basic file protection. Basic file protection is good for backing up only key data on one or multiple computers. The data is checked for errors during the backup process to ensure good restore points are always available should they ever be needed.
Cost is linked to how much data you need to store. The total space you need, per gigabyte, on our servers is billed monthly.
On-Site Servers
We can build a custom solution for you so you can back up data from your servers, networked devices and workstations. We use two or more hard drives in a RAID configuration which allows data to be constantly backed up onto each other.
This RAID array of hard drives, either Linux or Windows, means if one drive fails, the server simply runs off the other one. No restart is needed and you can always access your data. The faulty drive can be replaced at your convenience. They can be used for additional functions like file servers, web servers and email servers.
External Drives
Depending on the amount of data you need protected, an external drive is an affordable, convenient solution. Both the external hard drive and the USB flash drive are portable. Whichever you choose, we recommend always using two together so you can leave one on-site and take one off-site for added safety.
Flash drives are small and easy to carry. Since they are nonmagnetic, they have no moving parts and are not prone to the same types of failures as standard hard drives. However they can hold much less data than a conventional hard drive.
If you have a large amount of data, an external hard drive is the better solution. They are available in a wide range of storage sizes, physical sizes and shapes. We can help you choose the best one for your needs.
Have questions about backups? Need an expert appraisal of your needs? The professionals at BDH Technology are here to help. Contact us today to for more information about the best backup solution for your business.
Don't see what you are looking for? Have more questions? We're here to help. Just contact us for a free, no-obligation estimate.